How Sales Enablement can boost the sales of your field teams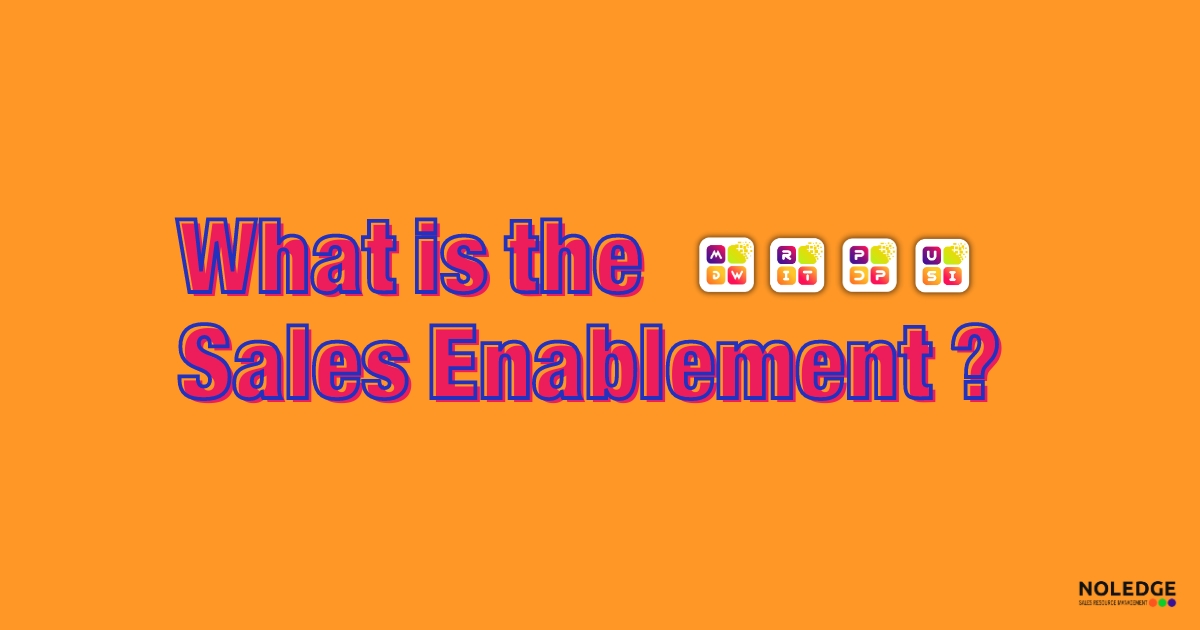 For a long time, Sales Enablement was considered a luxury reserved for large companies. Today, it has become an essential condition for remaining competitive and ensuring a company's long-term future. Most sales enablement units were created on an ad hoc basis or in response to the loss of major contracts. However, it often takes an additional trigger to put in place a proper Sales Enablement strategy, in order to establish a repeatable and sustainable process that delivers long-term business results.
In this article, the Noledge team invites you to delve into the world of Sales Enablement. What is Sales Enablement? What benefits does it bring to your company? And how can you implement it effectively? Let's explore these questions together!
"Sales people spend only 36.6% of their time on commercial activities".
According to a study carried out by the Sales Inside Lab research centre, salespeople spend an average of 36.6% of their time on sales. However, this percentage varies considerably according to a key criterion: the ability to establish a rigorous and effective time management process. Salespeople who know how to manage their time and plan their activities precisely spend 40.1% of their time selling, while those who do not have a clear agenda spend only 30.4%.
The study also reveals that for some salespeople, technology plays a dominant role in their work. They spend 61.7% of their time using sales support or customer portfolio management tools. Sending e-mails is still the activity that takes up most of their time. As for CRM, although it is essential for sales staff, they spend only 18% of their time on it, half of which is spent trying to make it more effective.
These results come from research carried out by Inside Sales Lab, the research centre of sales acceleration platform Inside Sales. The survey was first conducted with 200 salespeople and then repeated with 700 salespeople, with broadly similar results.
The basic principle of Sales Enablement and why you should implement it in your company.
What is Sales Enablement?
Sales Enablement is a continuous, strategic process that aims to drive sales by providing the sales team with the right content, data and training to engage customers (buyers) and drive conversions. In a broader sense, it refers to all the means, methods, tools, applications, solutions and technologies designed to boost the performance of the sales and marketing force.
The 3 keys to success
Structure, thanks to a tree structure tailored to your business and your key entry points in the sales process (products, customers, brands, etc.), in a world customised to your image.
Manage the sales and marketing information flow down to your customers by putting you in complete control.
Measure the relevance of information delivered to customers by analysing advanced statistics.
Why invest in Sales Enablement training?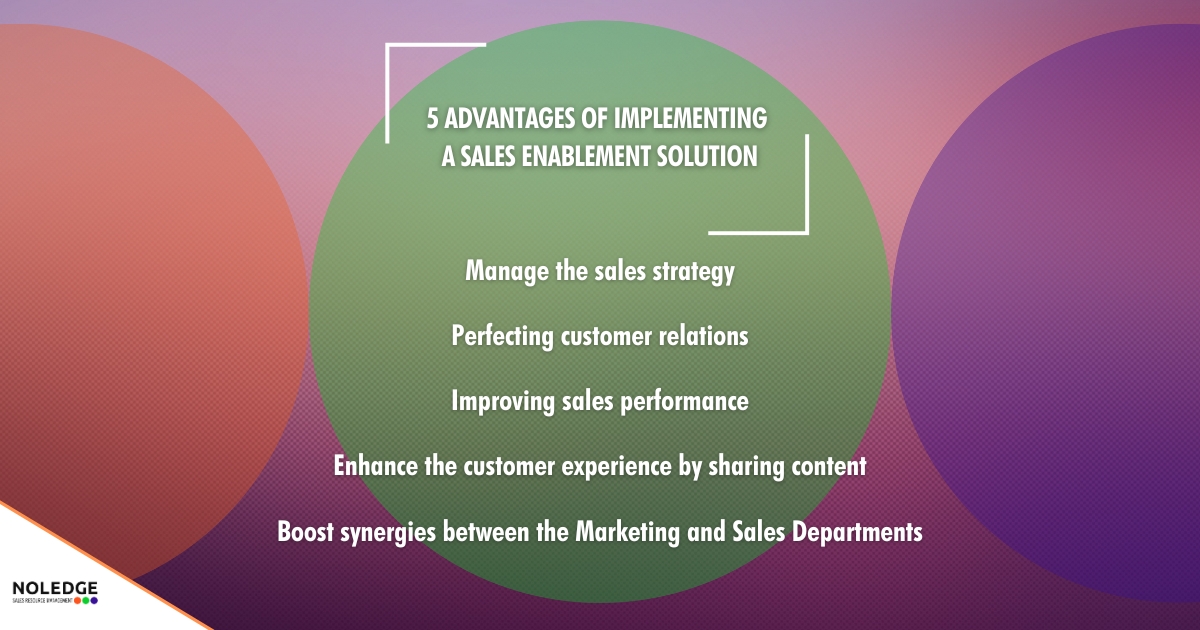 1. Manages the sales strategy
The NEO Sales Enablement solution goes far beyond optimising the productivity of your sales team by centralising essential content. In fact, it plays a key role in steering your company's sales strategy. By bringing together all the resources needed for sales into a single platform, NEO enables your sales staff to concentrate on their core business, without wasting time searching through multiple repositories.
Thanks to the feedback collected by the tool, the relevance of the content is constantly being improved, helping your sales staff to offer a personalised and engaging experience to their prospects and customers. By encouraging seamless collaboration between sales and marketing teams, NEO also helps to optimise your company's overall performance.
2. Perfect customer relations
NEO is much more than a simple sales tool. With the end customer in mind, this solution enables your sales staff to capture the attention of their prospects and customers during sales meetings. Thanks to a relevant, rich and enjoyable presentation, your sales staff can deliver an exceptional customer experience, boosting customer confidence and satisfaction.
3. Increases sales performance
As well as improving productivity, the NEO Sales Enablement solution is designed to boost the effectiveness of your salespeople to increase the conversion rate and generate more revenue. With Noledge, you can put in place a repeatable process to boost the performance of your entire sales team.
This involves :
A modern application suite to support your teams in the field,
A more professional and consistent sales approach,
Personalised sales meetings,
Simple and effective integration of your outsourced sales teams,
Increased skills and educational support for your teams,
Reactivity thanks to feedback from the field,
Operation in disconnected mode.
4. Enhance the customer experience by sharing content
The NEO platform enhances the customer experience by sharing relevant content. Your sales staff have access to a range of relevant, up-to-date resources that they can easily share with their customers, enriching sales interactions.
5. Sales Enablement to better align sales and marketing
Sales Enablement plays a crucial role in bridging the gap between sales and marketing teams. By encouraging communication and alignment of objectives, MDW NEO ensures that content creation is fuelled by feedback from sales people. Studies have shown that sales and marketing alignment generates 19% more growth, while lack of alignment is estimated to cost companies a total of $1 trillion a year. With NEO, you can promote synergy between these two teams, which are vital to your company's success.
Our solutions evolve above all through feedback from each of our customers. Sharing our experience with sales managers in the field is part of Noledge's DNA. This continuous improvement approach guarantees you an application that meets your day-to-day business expectations.
The most operational NEO suite on the market, offering constant innovation thanks to the enrichment of the members of the Users Club.
Achieve measurable ROI in just 3 months!
Beyond the technology, for 20 years the Noledge team has been proud to contribute daily to the performance of more than 25,000 users in the field, for both major accounts and SMEs, both nationally and internationally.
The feedback from our Users' Club contributes to the ongoing development of our platform, and our partnership with MICROSOFT is a key factor in Noledge's success in the marketplace. Our aim is to optimise processes, activate synergies and realise your company's full potential by connecting people, processes and technology.
Let's talk about your project!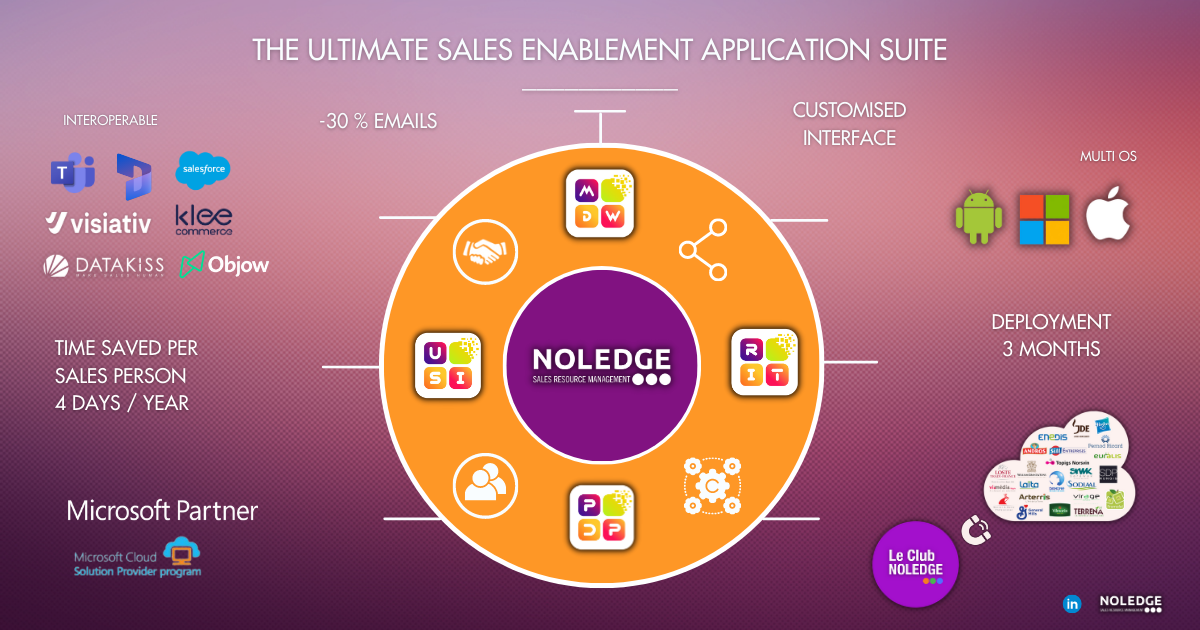 What are the main benefits of Sales Enablement for field teams? Sales Enablement offers field teams several key benefits, including better time management, increased sales performance, improved customer relations and optimised sales strategy thanks to the centralisation of key resources.
How does Noledge's Sales Enablement differ from other solutions on the market ? Noledge offers the NEO platform, a scalable Sales Enablement solution, with a User Club providing feedback for continuous improvements. NEO focuses on the personalisation of content, the integration of outsourced sales teams, responsiveness thanks to feedback from the field, and much more.
How does Sales Enablement help to improve the customer experience ? Sales Enablement, via NEO, enables sales reps to deliver an exceptional customer experience through tailored and relevant content. As a result, customers feel better understood and satisfied, reinforcing their trust in the company.
What are the success indicators that can be measured using Sales Enablement ? Sales Enablement success indicators can include the conversion rate of leads, the increase in revenue generated by sales teams, the reduction in time wasted searching for information and the improvement in the effectiveness of the sales pitch.
How does Sales Enablement facilitate collaboration between sales and marketing teams ? Noledge's NEO facilitates collaboration between sales and marketing teams by encouraging communication and the alignment of objectives. Thanks to feedback from sales staff, content is constantly being improved to meet customer needs, fostering synergy between the two teams.
What criteria should I take into account when choosing the right Sales Enablement solution for my company ? To choose the right Sales Enablement solution, it's essential to consider the platform's user-friendliness, its ability to customise content, its integration with external teams, its performance monitoring and the quality of the guidance and support offered by the supplier.
How does the implementation of a Sales Enablement solution impact a company's overall performance ? Successful implementation of a Sales Enablement solution, such as Noledge's NEO, improves overall business performance by increasing sales, strengthening customer relationships, optimising sales processes and promoting alignment between sales and marketing teams. This contributes to the company's long-term growth and competitiveness.